LIGHTSCAPES AND NIGHTSCAPES
Lighting brings texture, depth, and drama to the landscape.
Sunbeams separate into myriad rainbows in the mist of a waterfall. Dappled light passing through palm fronds breaks into prismatic patterns on the floor of a tropical pool.
At night subtle spa lighting is an invitation to romance. The powerful surge of a cataract is brought to life by underwater lighting. In either case, less is more; the source of illumination should never be evident.
< Fort Young Hotel,

Dominica, West Indies

A free rainbow with (almost) every waterfall. Depending upon the sun's angle, the mist from a waterfall may generate a beautiful rainbow.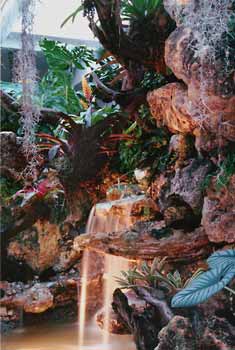 < Southbeach Marriott

Cloudforest Aviary,

Miami Beach, FL

Underwater lighting brings the falls alive at night, and emphasizes the organic textures of the materials. All of this is real. There are no fake rocks, plastic plants, or animatronic animals. This is real living sculpture.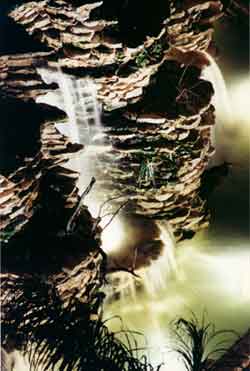 Royal Islander Resort >

Cancun, Mexico

A night time balcony view of the second of four cascades. Total drop 18 feet. These photos were taken prior to the completion of the landscape. The cascades will ultimately feature a lush landscape of flowering tropical vines.