WINTERGARDENS
AND
HOTEL ATRIUM SPACES
To bring the outside in, to create a vibrant living garden within the confines of a building, is one of the greatest challenges facing contemporary architecture. In cities, and in inclement climates, the atrium may be the only opportunity to integrate warmth, sunshine, and greenery into our lives. To successfully create an atrium garden requires an in-depth understanding of the physiological requirements of plants, and how these relate to the architectural setting.
I have designed and constructed atrium gardens and water features for numerous large hotels across the country, and in so doing have gained a thorough understanding of the architectural parameters that will support an interior landscape with minimum maintenance requirements.
I am particularly interested in developing wintergarden concepts for eldercare facilities. Let the golden years of our lives be filled with light, life, blossoms, and butterflies. Pick a fresh tomato in January. Sit with your friends on a sunny bench while the cold wind blows outside. All of this, and more, is possible if we design health and eldercare facilities that fully integrate landscape design and architecture.
< Embassy Suites Hotel,

Altamonte Springs, FL

A view of the lavish atrium landscape and falls.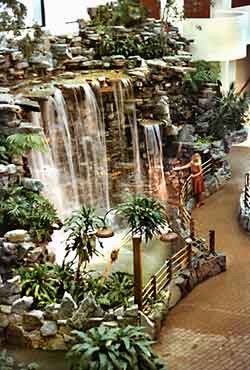 Rockville, MD (Washington, DC)

An atrium view of the main falls
< Sheraton Suites Hotel,

Tampa Airport location

Guests enjoy atrium dining beneath the canopy of enormous trees.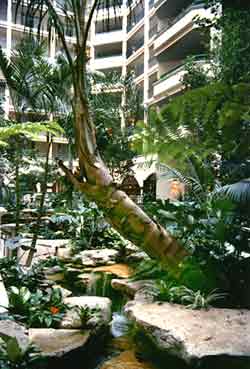 Park Suite Hotel >

Nashville, Tennessee

A beautiful stream, sculpted from Tennessee ledge rock, runs the length of the atrium wintergarden. Notice the palm tree curving above the stream as though it had grown there naturally. Good landscape design always attempts to mimic natural processes.
< Marriott Hotel, Quito,

Ecuador, South America

The main interior waterfall is located in a dramatic vaulted atrium space. It spills from the upper atrium containing the lobby to the lower atrium on the level of the restaurants and pool.